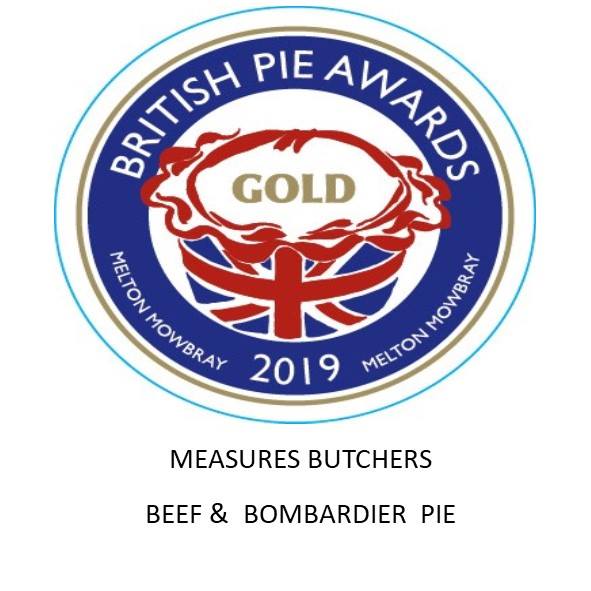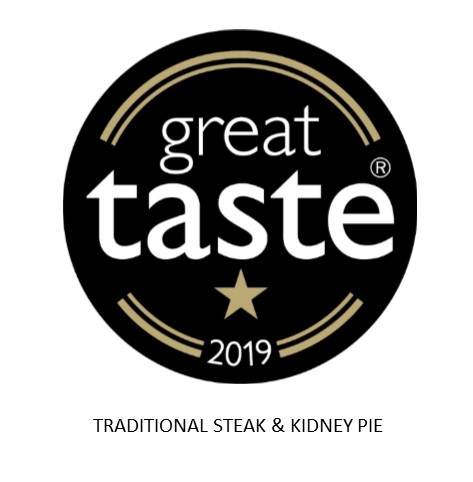 2022 GREAT TASTE AWARDS : STEAK & KIDNEY PUDDING PLUS STEAK RED WINE & MUSHROOM PIE
2021 GREAT TASTE AWARDS: TRADITIONAL BREAKFAST SAUSAGE, STEAK & STILTON PIE, BEEF & BOMBARDIER PIE
3 Sizes of Award Winning Pies
Large Approx 900gm .. .. .. £8.50 (serves 4 to 6)
Medium Approx 600gm .. .. £6.00 (serves 3)
Individual Approx 225gm .. £3.50(Too good to share)
The Varieties
Beef & Bombardier - This is a top class steak pie enhanced with mushrooms and a hint of Charles Wells Bombardier bitter. Crisp shortcrust base. heaps of tender chuck steak and topped off with handmade puff pastry. Probably one of the best pies in the UK today - several Gold Awards For Excellence - Highest marks of any product entered at BPEX East Anglia Regional Roadshow 2010. Gold Medal British Pie Awards 2019.
Steak & Stilton - King of Pies - The incredible flavour of best british beef, sauteed in beef dripping, simmered in a rich beef gravy and combined with creamy fresh stilton cheese before being added to our hand made, buttery, shortcrust pastry. Gold Medal England's Best Pie.
Steak with Mushrooms & Red Wine - Second highest to our Beef & Bombardier at the above show. This is an all shortcrust pie with big chunks of beef steeped in red wine and finished with sliced mushrooms. A truly lovely pie popular with families and sophisticated dinner party givers alike.
Steak with Onions - Yet another Gold Award Winner this pie has a crispy shortcrust base, heaped with chunks of finest British chuck steak with fried onions in rich gravy, topped off with our hand made puff pastry. A steak pie full of flavour!
Traditional Steak & Kidney - A top award winner every time shown and North Eastern Region Champion. This pie prompted one of our more senior customers to delcare it the best thing he'd eaten since World War 2, when a local butcher had given him half a dozen sausages from under his counter because he'd helped lift the butchers cart out of a ditch. Great Taste Award 2019 1 Star.
Creamy Chicken & Mushroom - This is another very traditional pie and always a firm favourite with families. It has a shortcrust base and light puff pastry top. We use fresh British chicken thigh meat cut into nice big chunks. The sauce is finished with a dash of fresh cream and plenty of mushrooms.
Our famous Brampton Pie - A combination of our award winning ham carved off the bone and fresh chicken thigh meat steeped in a rich cream sauce and heaped over a layer of our own sausagemeat. This pie was developed at Measures Butchers over 20 years ago and the recipe has since been used on national TV as well as being copied throughout the UK. We don't mind though - its nice to see a pie putting Brampton on the map.
Please also try our Award Winning Ham - cooked daily on the bone. Our Gold Award Lasagne. Our Sausage Bacon & Onion Plaits, Hand Made Scotch Eggs and full range of award winning and championship sausages.
Cooking Instructions: Large 30 to 35 min. @ 190c Medium 25 to 30 min at 190c Individual 20-25 min at 190c.
Store Below 5c - please click the tab for the online shop for details of allergens and ingredients.
NOW AVAILABLE FOR LOCAL DELIVERY
CLICK TO SHOP NOW https://www.measuresbutchers.co.uk/shop-our-full-range.php